We just came up with the ultimate solution to phosphor burn in, but it turns out that someone already beat us to it like 20 years ago. to cut it short, we made a screen saver.
This screen saver features neon colored clocks that alternate and change position, displaying the current time and giving a warm futuristic glow to them.
Here is a small picture. the screen saver works well with all resolutions over 1024×768. so in other words if you are running xp on a good computer or vista it works. we have also tested it on 64-bit versions of vista, and it ran perfectly. so check it out and download it NOW! btw, special thanks to LVStudios.net who provided us with the needed storage space, and InstantStorm.com who provided us with their all-powerful software.
anyway, click HERE to download it NAWZ!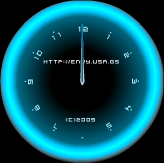 —