24 June 2012, 19:22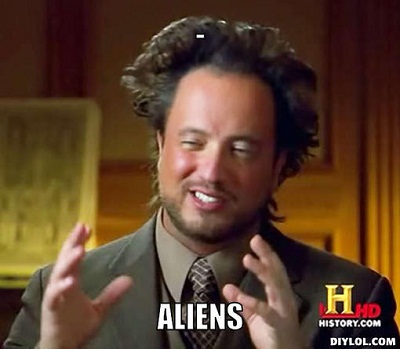 Yep, aliens.
—
Zebobbybird, Editor and Administrator (of pain)
Use this to critisize, judge and insult us
12 August 2009, 09:25
Cover Artwork:


Track List:
People Say
Work All Day
Lovers in Love
The Sun
The Home
The Wood
Guns & Dogs
Do You
Everyone is Golden
Let You Down
Mornings
Although the name implies that this is some metal album, it's actually the most mellow Portugal. The Man album yet, it has almost a classic rock feel to it. Also, the acoustic version of the album(The Majestic Majesty) is amazing, just purley amazing.
Now, for the tracks. 1st off, People Say. Everyone who is a big fan of Portugal. The Man, or who was lucky enough to look into them at just the right time, heard this song long before the album was released, is's a pretty cool little song about war, with some very simple, yet pretty cool, lyrics. At the end of the song when John is chanting "It'll be alright", is, in my opinion, the best part of the song, there are a bunch of things going on in the background, and is very climactic, which I like. Now, for Work All Day; this is my favorite song on the album, the chorus is really cool, and really catchy. Also, the verrses all build up to the chorus, so the chorus(which is the best part!) feels like the destination of the song, and it sounds badass. Lovers in Love: I like the verses, but the chorus is just ok, and I would like the song a lot more if it were a little shorter. The Sun: The little intro to the song is really cool, it's very slow and mellow, and it stays with that feel throughout the song, but in a different way, like in a way I could see someone driving down a rural highway in a convertable. I'm not sure if anyone will see where I'm coming from with that, but that's the image I get. The Home: This is another great one; the singing in this song is probably the coolest on the album, and the keyboard is pretty damn cool too. This is the psychadelia, trippy kinda song of the album, it's pretty much right in the middle of the album as far as how much I like it, and as far as the order of the songs go too, now that I think about it. Guns & Dogs: This is another one of the greats on the album, the band as a whole really makes the song so good, and it slows down for the chorus, and the chorus rules, it's another one where the chorus is the best part of the song. Do You: This one, along with Everyone is Golden and The Sun, are the songs that I can see being used for a commercial, or a montage in a tv show, so look out for Portugal. The Man on your television! Those are the songs that are gonna get them money, if anyone in the television buisiness is into P.TM. I pretty much told you all I find really interesting about Everyone is Golden, so on to Let You Down! Let You Down: This is a cool little piano-singing duet kinda deal, and it isn't on The Majestic Majesty(which, if you don't remember, is the acoustic version of the album) because it's already an acoustic song. Mornings: This is a really cool song, it's pretty much a ballad, and it kinda reminds me of Pink Floyd, which is good, because I like Pink Floyd.
There wasn't anything too seriously wrong with this album, it was a little slow, and I would have liked something more Waiter:"You Vultures", but I guess I shouldn't ask them to repeat themselves, because I know they're into making each album different, but still, I loved that album. And they did the whole"Host your album early on MySpace" thing, which was a bummer, but it already got leaked anyways, so I don't really blame them. Also, like The Mars Volta, I'm going to see them this summer at the Outside Lands festival, and they better play some early stuff or I'll be very disappointed, I'll be yelling Marching With 6 the whole concert until they play it. Which they will. Trust me. They will. But if they do play stuff of The Satanic Satanist(the if wasn't really necessary, of course they will) they better play Work All Day and The Home. August 29th will be a good day, I get to see Portugal. The Man and The Mars Volta on the same day. A big haha to all of you who won't be there, you'll be missing out.
—
Primsu, Music Connoisseur
Use this to critisize, judge and insult us
15 July 2009, 22:19
Its been a while since I last post it here, but oh well. Im here just to say that Im still brainstorming for the comic Crappa da Rappa (Crapper the Rapper for all of you my non-gangstas white friends). Aaaaannd I also did a little review for an iPhone/iPod Touch App, feel free to check it out at http://lvstudios.net/lvblog/
—
HVG, Staff-Adore
Use this to critisize, judge and insult us
25 June 2009, 13:24
Cover artwork:

Track list:
Since We've Been Wrong
Teflon
Halo of Nembutals
With Twilight As My Guide
Cotopaxi
Desperate Graves
Copernicus
Luciforms
I would say that, overall, this is a very good album; "Cotopaxi" is obviously a great song, I also personally really like "Desperate Graves" and "With Twilight As My Guide". "Halo of Nembutals" gets better the farther you get into it, "Luciforms" is pretty cool. I love "Copernicus", but, because of how slow it is, I would hate to hear it live(along with "Since We've Been Wrong", but I don't really like that song too much to begin with), and lastly you have "Teflon", which I didn't like much at first, but it's grown on me. I actually didn't like the album at all when I first heard it(except for Cotopaxi, With Twilight As My Guide, and Desperate Graves), but now I think it's a pretty cool little album, definitely their most different album(that is different from their usual style, not from most music, I'd have to say their most different from most music would either be "The Bedlam in Goliath" or "Frances the Mute", depending on which direction your going from most music).
Now, I'm sorry, but I have to be the bad guy for a minute here. First, what the fuck is going on with the album streaming on MySpace before it came out? I was pretty damn disappointed about that. Second, it's only 46 minutes! What hapened to the Mars Volta that put out 46 minute songs? It's not a big deal, but damn, I was hoping for at least an hour. Third, although it's related to my first problem with this album, why did they have an"I-tunes exclusive" track? I hate that, I mean, it was only a live track, but still, that's so lame. Fourth, I really wish they had put this one in a digipak, I think the artwork would have been better served on one(by the way, the artwork for the album is awesome, I'd even say it competes with "The Bedlam in Goliath", but I'm still not sure which one I like more), but my biggest problem with the album is the minute and a half of silence before the album starts. I mean, I was one of the very few people who was totally down for all of the noise on Frances and De-Loused, but I just don't get this. The noise was cool, it was more than just noise, it had a sort of rhythm to it, some of it almost even had a melody, but silence? Now even I'm fast-forwarding through the album to get to the good parts. And then there's another half a minute of silence at the end of "Since We've Been Wrong", but the rest of the album goes back to noise instead. Good.
Aside from that I do really like this album, I would have to say I like their other albums more, but this is cool, I'm happy I got this. I think the next one will be better though, I hear they already have it recorded. I'm going to see them at the Outside Lands Festival, and, to be completely honest, the only song from the album I would be excited to hear live would be Cotopaxi, not to say it's my favorite song on the album, it's not, it's just the most exciting, and the only song on the album that I feel is really show-worthy. I think a show should be very exciting, and I would be disappointed If I heard "With Twilight As My Guide", "Copernicus" or "Since We've been Wrong" in particular, but I wouldn't be amazingly excited for "Teflon" or "Halo of Nembutals" either. Actually, "Halo of Nembutals" would be cool as an opener since it starts really slowly and builds up throughout the song. Also, "Desperate Graves" and "Luciforms" would be pretty decent live if they sped up Luciforms.
—
Primsu, Music Connoisseur
Use this to critisize, judge and insult us
5 June 2009, 12:58
This is an amazing band, playing Ska RockaBilly and Swing, i have heard a couple of their songs, and have picked my favorite of the bunch to show you:
It is amazing!
here is their myspace:
http://www.myspace.com/eversoklever
—
Zebobbybird, Editor and Administrator (of pain)
Use this to critisize, judge and insult us