28 August 2009, 02:03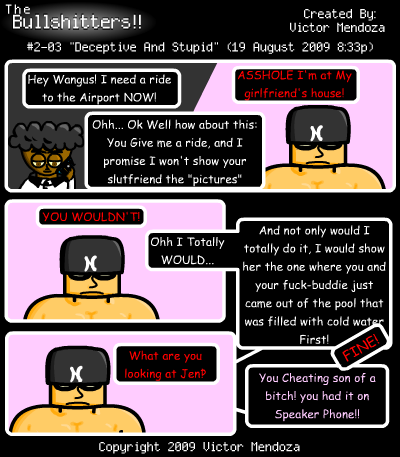 —
Zebobbybird, Editor and Administrator (of pain)
Use this to critisize, judge and insult us
21 August 2009, 02:02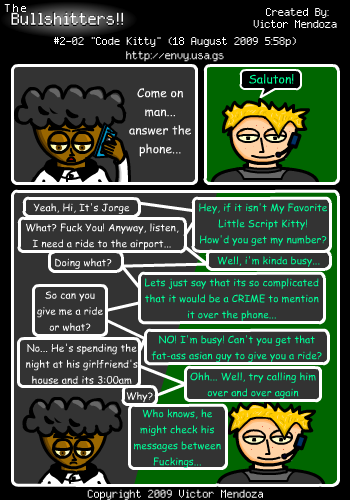 —
Zebobbybird, Editor and Administrator (of pain)
Use this to critisize, judge and insult us
1 August 2009, 02:02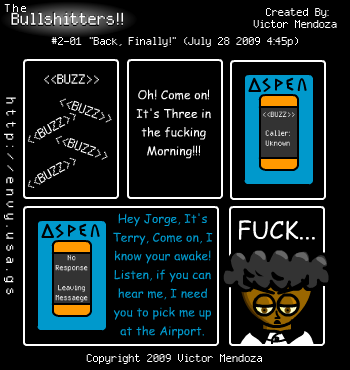 Welcome Back everyone, as promised, there it is.
Now, the comic may seem weird, because it seems to have left off a large amount of detail, for instance, what the hell is terry doing calling from the airport. that itself probably gives rise to even more questions. I guarantee you that these will be answered in the weeks to come, so stick around, and check the website out every once in a while, subscribe to our RSS feed, and check out the links on the right.
—
Zebobbybird, Editor and Administrator (of pain)
Use this to critisize, judge and insult us
26 July 2009, 19:12
I have been working hard to get The Bullshitters!! season two of comics out by August. The full color comics will include a new main character, and a variety of secondary characters. Unlike the last season in which most events took place outside of school, and usually while the three friends where sitting on a couch, the new season will feature a greater number of settings, and this time, their school will be much more prominent. As opposed to the last season, another great change will be a larger use of technology; the first season showed very little change from present day settings and the settings in the fictional future in which The Bullshitters!! takes place.
Another major change will be the format of the comic, in the previous season, the frames of the comic were displayed horizontally to accommodate the old page's format which allowed a much larger (700 pixels) width. The new site has a horizontal limit of 400 pixels and some uncalculated "wiggle room." Because of this we can no longer use the 700 × 200 area we had with the previous season. Thus, the new season will be 350 pixels in width, and a height changed on an as needed basis.
Remember to Come Back Here on AUGUST 1st! to check out the new comic!!
—
Zebobbybird, Editor and Administrator (of pain)
Use this to critisize, judge and insult us
28 June 2009, 18:57
Today I announce the last Bullshitters!! of the season, with a total of twenty five comics released this year. We will resume the series in August. The second season will have a very different look to it, and i hope that you find it more appealing. In other words, though we are keeping our traditional black and white format, this will be the last comic to be released in the 700w x 200h aspect ratio, because, god this ratio sucks for the new website design.
There are going to be a couple of surprises, including changes in cast and changes in the over all design of the characters, as this design is not appealing at all to many viewers. Also, the upcoming season will have different backgrounds. Well, without Further to do…


Please visit us often, as i will still be updating Teh Designers, and of course, be sure to be here august first, as this will be the season premier of the Bullshitters!!
Also, i know this is contradicting what i previously said, but, we may or may not keep our old "Black and White" style. i am heavily considering full color.
—
Zebobbybird, Editor and Administrator (of pain)
Use this to critisize, judge and insult us