Ladies and gentlebitches! Today i present to you the most controvercial image we have ever created! Though it does not contain nudity, it reeks of dogma and to the Christian mind is more insulting than hardcore gay pornography.
Now, i am sure you have all seen Ichthys, better known as the jesus fish. Well, i assume that you have also seen its parodies, including the FSM one, and the more famous Darwin one. Well, i came to the conclusion that the only way we could breed a superior jesus fish parody is if we combined the genese of other parodies together, by letting them mate, and see which are the superior offspring. Without further adue, i pressent:
Darwin Mounting Jebus: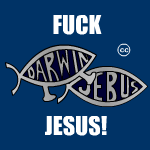 Also, this image is available under Creative Commons, which means feel free to make copies and similar works!
********



Darwin mounting jebus

by Victor "zebobbybird" Mendoza is licensed under a Creative Commons Attribution-NonCommercial-ShareAlike 3.0 Unported License.


—